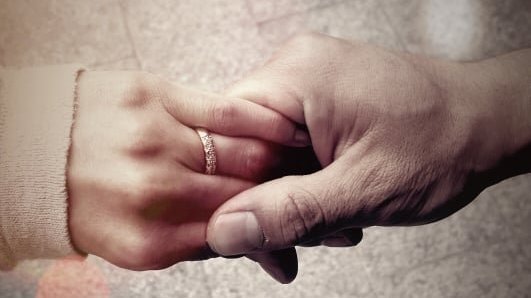 Taken away from his hospitalised wife, Jamal* reports about the condition in a Swedish deportation prison during COVID-19 and gives his testimony of the inhumane German and European Migration policy
Jamal's* testimony:
There are people in this world who have to leave their hometown and relocate to other places to save their lives.
Memories, families, children and so on leave everything to build their futures. Like people like me, I emigrated, lost my parents, took refuge, got married in Europe, and formed a new family. But now after many years of emigration from the Swedish government, I have been separated from my wife who is pregnant and at the height of loneliness and illness and is now being deported to a detention facility for the second time.
There are many people like me who have lost all their lives because of wrong decisions and trampling on human rights by the authorities.
And they play with our life and our mental and physical health.
This question is repeated many times in our minds why? And for what crime?
We ask ourselves days and months why and why should we be in prison? Why and for what reason should we be separated from our spouse, children and family for a long time and simply lose the life we fought for?
Prison is usually a place with very limited facilities for people to be punished for their crimes.
But deportation camps have far fewer facilities than regular prisons, where people are forced to settle only because they are immigrants.
Minimal health care and serious mental and physical injuries. Under the current circumstances, the COVID-19 virus threatens the life of the human race. Especially people like us who are indoors without adequate medical and hygienic facilities where all equipment is non-standard and Used jointly And it allows the virus to easily infect people
And it can cause serious problems and even death, which can become a human disaster.
On March 17th, three very serious cases were reported at the Marsta ( Stockholm ) Deportation Camp which were not initially taken seriously. Then they were quarantined But it was too late and more and more people were infected,
At the same time, no one in outside here was aware of any reaction.
There were even protests inside, but we went to solitary confinement for a while and were punished for defending our rights.
However, authorities are still trying to deport immigrants without regard for human rights . This includes only a small part of the Deporte camps, and if an epidemic occurs, an irreparable catastrophe will occur. While Afghanistan has clearly stated that it cannot accept immigrants in this situation and that the persons concerned must be released so as not to cause serious problems, the Swedish government still forced immigrants for deportation or keep into detention center.
What will happen ?
what if we can not see our family again?
Who's in charge if we get a problem?
Petition from relevant authorities:
– Access to medical care for refugees.
– Abolish all deportations to prevent the spread of coronavirus
-According to the request of the State of Afghanistan, that has sent to all EU countries that they are not able to receive the refugees after the deportation due to the crisis in the country.
– Evacuating detention facilities and the release of asylum seekers and providing safe accommodation for immigrants, where I can stay away from contractions and outbreaks. For humanity.
-Quarantine and protective measures against coronavirus should be prevented from spreading the virus.
-Respect for human rights and the protection of refugees
___
About Jamals* Story:
From the beginning of 2020 Jamal* finds himself in a Swedish deportation prison; at the very moment when the Corona Pandemic hits Europe. In mass accommodation the spread of the virus is accelerated and appropriate response or protection mechanisms are often not in place, particularly at the beginning of the pandemic. This might have also been the case in Märsta, the Swedish deportation prison, where Jamal* has been detained.
According to an article by the Swedish newspaper ETC on the 18th of March 2020 a refugee infects with Codiv-19 and later dies in a hospital. Linn Nilsson, Press officer of the Swedish Migration Agency, assures that several measures have been taken to reduce the risk of further spread of infection. However, refugees in the Lager report that "(…) many people (…) have been cold with fever and pain in the body, but no one has taken any tests on us. They only put us in isolation for 15 days and if you continue to be poor you are sent to hospital."