Erfahre mehr über das Permanent Peoples' Tribunal und das Recht auf Gesundheit in den Episoden unseres Podcasts "Health is a Human Right".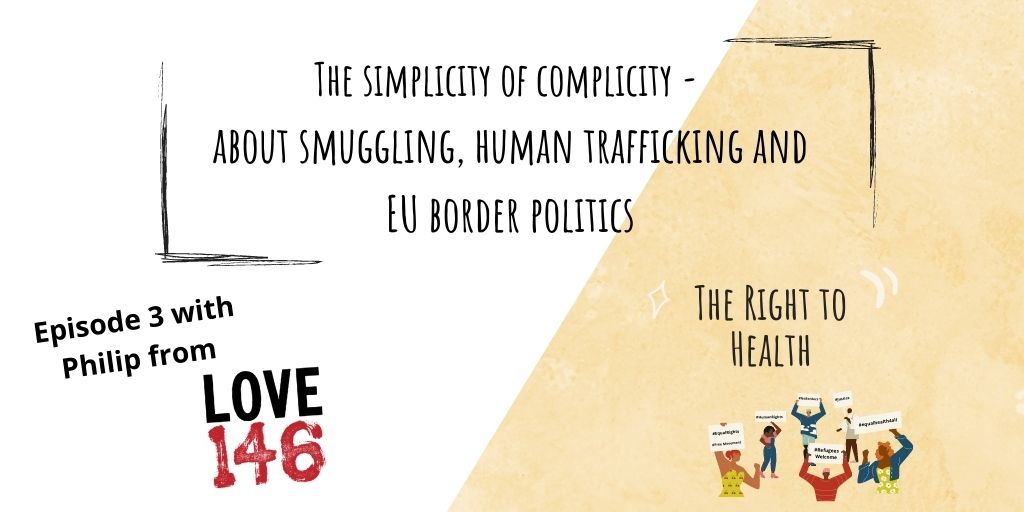 Episode 3: The Simplicity of Complicity – About Smuggling, Human Trafficking and EU Border Politics
In dieser Folge sprechen wir mit Philip von Love146, einer internationalen Menschenrechtsorganisation, die sich für die Beendigung des Kinderhandels durch Prävention, Bildung und Überlebenshilfe einsetzt. Wir erörtern die Schnittmenge von Schmuggel, Menschenhandel und Migrationspolitik in Europa, ihre Auswirkungen auf Kinder und junge Erwachsene, die unterwegs sind, und wie die Mittäterschaft bei Verbrechen erreicht wird, indem man ungerecht handelt, aber auch, indem man überhaupt nicht handelt, wenn man mit Ungerechtigkeiten konfrontiert wird.
Dieser Podcast wurde mit der Unterstützung von Radioconnection Berlin produziert: https://www.radioconnection-berlin.de/
Hör dir unseren Podcast auf Spotify an: https://open.spotify.com/show/0xxu5dEIIjr0IUc9qCLIPb?si=52gUVygUSVS5UzSWHQvKew